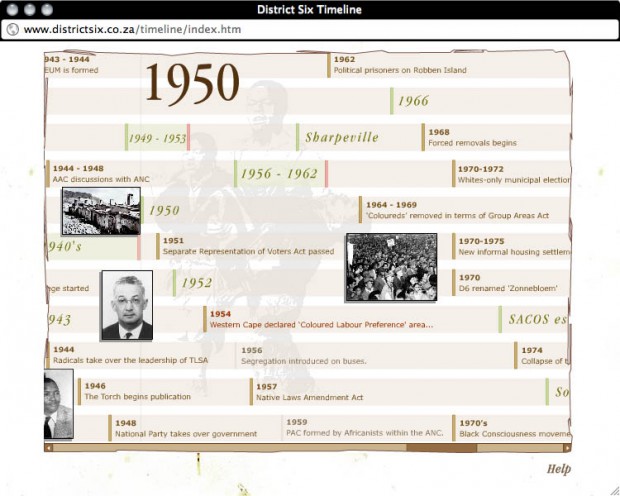 Abungu (2010) paints a picture of the contemporary museums in post-colonial Africa as working to move away from "the old style of exhibition (eg. Dusty objects hidden in glass cases)" (181), and to address the changing face of African society that museums now represent. Part of decolonization, she argues, is a move away from a western museum model, and the positioning of the museum as a tool for social and cultural development. Capetown's District Six Museum, for example, represents a shift from a focus on objects to the memorialization of the atrocities committed under apartheid––a move from exhibiting tangible heritage to featuring, promoting, and actively documenting and communicating intangible heritage in digital form. Digital cultural heritage from her perspective has the potential to be an agent in the social and cultural work of the museum, telling stories formerly denied heritage value by an oppressive regime, breaking down walls of institutions and creating access for the marginalized; at the same time, its reach is limited by aging telecommunications infrastructure, lack of access to Internet and computers, and conditions of poverty. Abungu's article points to the role of new media in facilitating access to digital cultural heritage (see Christen's 2009 piece, and my piece (2009) assigned for this week as well) and the challenges of access outside of urban centres.
Abungu's analysis of the museum in post-colonial Africa speaks to Fiona Cameron's assertion that heritage discourse––which has come to include digital heritage––is culturally and politically produced. She argues:
 "Choices  as to what to keep and criteria in which to define objects are made at the expense of others and as Hall (2005) suggests is one of the ways a nation slowly constructs a collective memory of itself. Clearly the same is true for digital heritage items. The value of the past for the future and the nation hinges on these essentialized meanings" (Cameron 2008:177).
Reminding me of Jeremy's post last week, Cameron argues that Western societies have been largely object centered, "where notions of heritage place the accumulation of objects of critical importance is the transmission of cultural traditions" (Cameron 2008:178). She contrasts this object-orientation with societies that are concept centered, in which objects are preserved because of their ongoing functionality, and in which cultural is transmitted orally––what is now known and codified by UNESCO as the intangible cultural heritage. As tangible and intangible heritage are being digitized in the name of preservation, they are rapidly being inducted in a process of "heritigization", which Cameron sees as reinforcing Western paradigms of historical materiality (think Walter Benjamin). This process of heritigization is further steeped in the discourse of loss, in which digital heritage is valued if it is perceived as being lost to posterity, rather than for its value in the present. What are the consequences? Should heritage preservation be about more than the archiving of a record, of documentation, of an object? What is the role of the digital object in heritage preservation, and in keeping intangible cultural heritage alive and reproducing? How do we understand the digital surrogate in relation to the original?
Alonzo Addison (2008) reflects on the need to safeguard heritage's endangered digital record through the lens of built-heritage documentation. By his definition, virtual heritage is practice oriented: "the use of digital technologies to record, model, visualize, and communicate cultural and natural heritage" (2008:27). This work is producing digital heritage, which itself is threatened by changing technologies, data storage challenges, and a lack of interdisciplinary collaboration and cooperation. Addison's work, scanning and digitally documenting endangered world heritage sites, is grounded in discourse promoted by the UNESCO Convention Concerning the Protection of the World Cultural and Natural Heritage, which "formalizes the concept of places of 'outstanding universal value' to all humankind and proceeds to encourage their protection and preservation for all" (2008:30). (Note that intangible cultural heritage was only formalized as a heritage concept in 2003). As you can see in this message from the Irine Bokova, the Director General of UNESCO, on the 40th Anniversary of the UNESCO World Heritage Convention, the discourse of universal value is alive and well (but of course depends on ongoing international support. Lack of support makes even more visible the ideological underpinnings of world heritage policy…). World Heritage, according to UNESCO, "is a building block for peace and sustainable development. It is a source of identity and dignity for local communities, a wellspring of knowledge and strength to be shared. In 2012, as we celebrate the 40th Anniversary of the UNESCO World Heritage Convention, this message is more relevant than ever."
Addison's chapter is well illustrated in this recent TED talk by Ben Kacyra (below), who has developed technologies for extremely fast, high resolution 3D scans of heritage spaces, and is currently building a global network with the goal of scanning and documenting all of the world's endangered heritage. He reiterates that the loss of world heritage––heritage that essentially belongs to us all as humans on earth––is a loss of the stories (the intangible) that these places represent, and a loss of the collective memory that tells us who "we" are. Without our heritage, he asks, how will we know who we are?
I am interested in one particular moment in the talk, when he describes how the scanning and digital modeling of a ritual structure in Uganda was put to use after the original structure burned down. In this case, I see potential for intangible cultural heritage–the knowledge of how to build a traditional form of architecture––to actually be revived with the use of digital documentation. Because of the 3D model, the structure could be rebuilt, and in the course of doing this, new knowledge was generated, and potentially passed on. So, what is the relationship of the digital file to the original? In this case, the digital file could be used to recreate the original, but most of the scans by CyArk will simply be archived. What will be documented along with them? Are they removed completely from their contexts of production—do they maintain a connection to the original or do they take on new heritage significance  on their own?
Finally, Last week we discussed the news that the US Library of Congress will begin to archive all tweets being generated through the platform Twitter. The response to this announcement is interesting, coming from those who are eager to be able to search the archive, to those who feel that their privacy has been invaded (I never signed up to be archived by the Library of Congress!), to those who think that archiving more than 50 million tweets every day is a colossal waste of financial and human resources. The New York Times discusses a new kind of researcher—the twitterologist––and indeed, the data is tremendously useful for researchers of all kinds, but is it heritage? Why or why not?
Lyman and Besser (2010) discuss the Internet Archive as representing another example of the desire to preserve and archive as much of the emerging digital heritage as possible, before it is "lost". Through the Wayback Machine, over 150 billion web pages are available, reminding users of the dynamic and contingent nature of the Internet—it is always changing, or more accurately, we are always changing it. Is it heritage?
What heritage should be saved? Who should save it? Does documentation of heritage amount to preservation, to 'safeguarding'? How is local heritage translated into heritage of "universal value", and what are the implications? What of the question of cultural property, of intellectual property rights, and copyright in this mess? I like Larry Lessig's TED talk, in this regard, for the way it spells out some of the legal and cultural foundations of current IP and copyright law. But, to connect a thread back to some of our earlier conversations, what are the some of the ethical issues related to digitizing and making formerly analogue heritage digital—should digitized cultural documentation automatically be inscribed as heritage of universal value, that should be open for access by all… or can we come up with alternatives that contest this emerging norm?
There is clearly a lot to discuss in the seminar this week, from digital cultural heritage as access, as documentation, as ethical and legal touchstone, as cultural policy, as memory and identity, to its representation of shifts in relations of power…  I look forward to your thoughts on this post or any of the readings for this week.
References Cited:
Abungu, Lorna (2010). Access to Digital Heritage in Africa: Bridging the Digital Divide. In Museums in a Digital Age. R. Parry, ed. Pp. 181-185. London and New York: Routledge.
Addison, Alonzo (2008). The Vanishing Virtual: Safeguarding Heritage's Endangered Digital Record In New Heritage: New Media and Cultural Heritage. Y.E. Kalay, T. Kvan, and J. Affleck, eds. Pp. 27-39. London and New York: Routledge.
Cameron, Fiona (2008). The Politics of Heritage Authorship: The Case of Digital Heritage Collections. In New Heritage: New Media and Cultural Heritage. Y.E. Kalay, T. Kvan, and J. Affleck, eds. Pp. 170-184. London and New York: Routledge.
Christen, Kimberly (2009). Access and Accountability: The Ecology of Information Sharing in the Digital Age. Anthropology News (April):4-5.
Hennessy, Kate (2009). Virtual Repatriation and Digital Cultural Heritage: The Ethics of Managing Online Collections. Anthropology News (April):5-6.
Lyman, Peter, and Howard Besser (2010). Defining the Problem of Our Vanishing Memory: Background, Current Status, Models for Resolution. In Museums in a Digital Age. R. Parry, ed. Pp. 336-343. London and New York: Routledge.