2011 Field School: Intangible Cultural Heritage and Museums, Thailand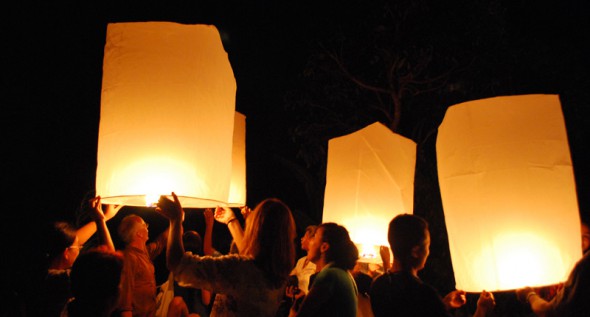 I have just returned from teaching in the third annual Intangible Cultural Heritage and Museums Field School in Lamphun, Thailand. This year, in addition to learning about community histories and curatorial practices local Thai museums in the northern city of Lamphun, and about the 2003 UNESCO Convention on the Safeguarding of the Intangible Cultural Heritage, each field school group produced a short video about an element of intangible  heritage at their field site. This was quite a challenge: four 5-minute videos produced in about 5 days in collaboration with local stakeholders with the goal of assisting with local promotion and revitalization of intangible heritage. The videos were reviewed and screened in each of the communities, with facilitated discussions about the efficacy of video in ICH promotion and transmission. In addition to being provided in the medium of choice to the co-producing communities, the videos are online here.
The video workshop was designed and taught by me and recent SIAT MA grad Majid Bagheri. Each field school group was mentored by  an experienced producer–we were lucky to work alongside filmmakers Vu Phu'o'ng Nga from the Vietnam Museum of Ethnology, Zhang Hai from Yunnan University, and Appinan T. from the Sirindhorn Anthropology Centre to produce films in each of the groups.
This year I worked closely with Appinan and field school students at Wat Pratupa, a Buddhist temple community of ethnic Yong people. The intangible heritage element chosen by Assistant Abbot Patiphan Phangwana and community members was the Yong language itself–an endangered northern dialect that they feel is at the core of Yong identity and traditions. Our video––"Because We Are Yong"–follows a young Yong speaker named Intira as she talks to local school children, and then to her mother and grandmother, about the importance of revitalizing and safeguarding the Yong language. It was a wonderful experience to produce this video with the guidance of the Assistant Abbott and members of the community, who made detailed storyboard and editing suggestions right up to the final cut. I sincerely hope that the film will  be useful as a discussion tool in local Yong language promotion efforts. Below are some photos from this year's field school, including the making, editing, and reviewing of the video.
My special thanks and gratitude to field school resource persons––Director Suvanna Kriengkraipetch, Paritta Chelermpow Koanantakool, Alexandra Denes, Peter Davis, Marilena Alizivatou, Rasmi Shoocongdej, and Michelle Stefano––for supporting this new element multimedia production of the field school, and for your energy and commitment in bringing these videos to life in each of your groups.  Thank you to the SAC staff for tireless support of the field school activities and translation.
Finally, thank you to all of the field school students–from Thailand, China, Vietnam, Laos, Singapore, Malaysia, Bhutan, and Timor-Leste––your energy and enthusiasm is contagious; I have left the field school feeling tired, but really inspired.