5 Films featured in exhibition "To Speak with a Golden Voice", Bill Reid Gallery
1 My Teacher the Raven (2019) from Bill Reid Gallery on Vimeo.
SIAT students in the class Moving Images (IAT344) produced 5 documentary films for the exhibition To Speak with a Golden Voice at theBill Reid Gallery of Northwest Coast Art, honouring renowned Haida artist Bill Reid's 100th Birthday. Students worked under the guidance of Dr. Aynur Kadir, who was at the time a MITACS and Making Culture Lab Postdoctoral Scholar working with Kate Hennessy and the Bill Reid Centre for Northwest Coast Studies at SFU, and as New Media Curator at the Bill Reid Gallery. Students were also instructed in the course by Susan Clements-Vivian.
Students were honoured to create short documentaries for the exhibition with curator Gwaii Edenshaw, James Hart, George Rammell, Rick Adkins, and Don Yeomans. See all the films here. 
---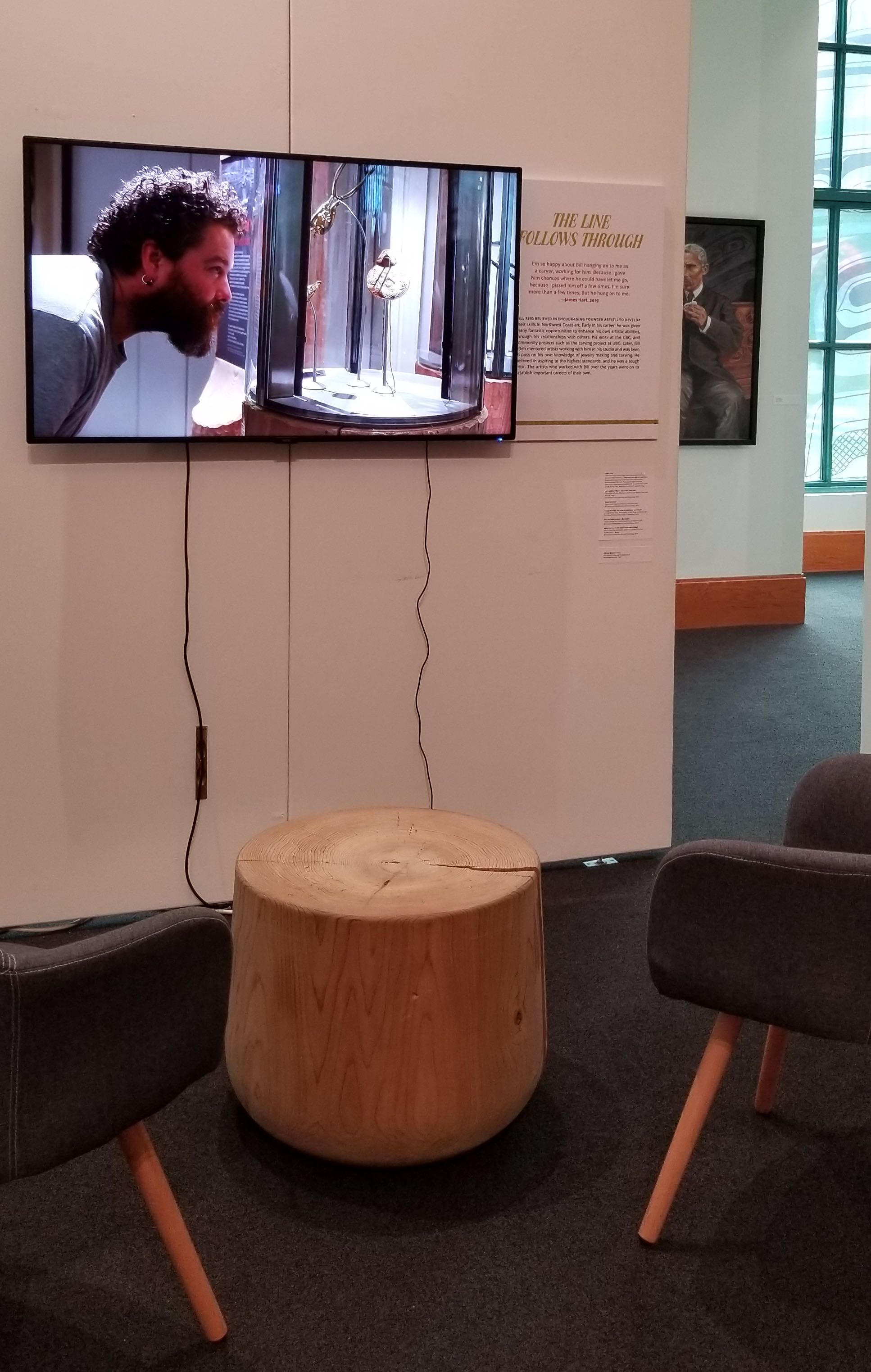 Text from the Bill Reid Gallery of Northwest Coast Art:
To Speak with a Golden Voice
July 16, 2020 – April 11, 2021
Bill Reid Gallery of Northwest Coast Art
Vancouver, BC
Exhibition Co-curated by Gwaai Edenshaw and Beth Carter
Almost every artist working today on the Northwest Coast can trace a line back to Bill Reid. – Gwaai Edenshaw, 2020
Bill Reid (1920-1998) was a renowned artist who lived at a time of great transition for Indigenous artists and communities in Canada. His life and legacy have been celebrated and analyzed extensively, in text, film, audio and through the media.
As we celebrate the 100th anniversary of his birth, it is time for a fresh look at Bill Reid – as a Haida, a philosopher, an activist, a maker of things, and dare we say, an influencer. Through the voices of those who knew him best, we can rediscover the golden voice that made him famous, and which still resonates today.
Through his lifetime, Bill Reid was honoured to receive three Haida names:
1954 – Iljuwas (Princely One) was given to him by Mrs. Hazel Stevens, who was also a member of the Kaadaas gaah Kiiguwaay clan of T'aanuu. Presented to him when he visited Skidegate to attend his grandfather's funeral.
1973 – Kihlguulins (Golden Voice) – was given to him by Florence Davidson. He held this name until 1986, when she took it back.
1986 – Yaahl Sgwansung (The Only Raven) was also given by Florence Davidson
The exhibition title references Kihlguulins, which he held from 1973-1986. We consulted with a current holder of the name, Kihlguulins Christian White, and Ginaawaan, Chief Darren Swanson.
Artist Films
Thank you to the Simon Fraser University students from the School of Interactive Arts + Technology who helped create these fabulous films about five artists who had a close working relationship with Bill Reid. We especially appreciate the mentorship and guidance provided by Dr. Susan Clements-Vivian and Dr. Aynur Kadir. Thank you as well to Dr. Kate Hennessy.
My Teacher the Raven: James Hart & Bill Reid
Film by Rajvir Chana, Adrienne Locher-Lo, and Stephen Therriault, with Jay Tseng
SFU School of Interactive Arts and Technology, 2019
Gwaai Edenshaw
Film by Jesika Kula, Kateri Danay, and Cassey Peng
SFU School of Interactive Arts and Technology, 2019
George Rammell: The Spirit of Haida Gwaii and Beyond
Film by Christy Chan, Sherry Wang, JinTao Wang, and Jayton Zang
SFU School of Interactive Arts and Technology, 2019
Into the Mind: Bill Reid to Rick Adkins
Film by Carolyn Yip, Cora Fu, Derian Chow, and Michael Su
SFU School of Interactive Arts and Technology, 2019
Being an Artist: Don Yeomans remembers Bill Reid
Film by Sahar Feyzallahzadeh, Jianan Lin, Jianwei Chen, and Stephenson C A Ngoda
SFU School of Interactive Arts and Technology, 2019