ARTICLE IN HERITAGE AND SOCIETY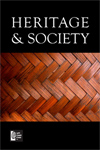 I am happy to announce the publication of an article  in the journal Heritage & Society called "Critical Reflections on Safeguarding Culture: The Intangible Cultural Heritage and Museums Field School in Lamphun, Thailand". It is co-authored with my colleagues Alexandra Denes, Paritta Chalermpow Koanantakool, Peter Davis, Christina Kreps, Marilena Alizivatou, and Michelle Stefano. It can be accessed here.
Abstract:
This article examines the educational approaches taken by the Intangible Cultural Heritage and Museums Field School in Lamphun, Thailand, organized by the Princess Maha Chakri Sirindhorn Anthropology Centre (SAC). Since 2009, the Field School, which takes place over a period of two weeks, has brought together fifty-five heritage professionals from throughout South East Asia to learn about intangible cultural heritage and its safeguarding. Through classroom lectures and discussions, participants are introduced to both the practical and theoretical aspects of sustaining intangible cultural heritage. Through in situ, community-based exercises, participants are given an opportunity to apply research tools and approaches that encourage building collaborative relationships with local communities, as well as learning about intangible cultural expressions from the perspectives of their practitioners and within their source environments. The Field School also actively promotes critical reflection on the limits and challenges of implementing the UNESCO Intangible Cultural Heritage (ICH) mandate as they emerge from the field practicum exercise. Such challenges include issues of representation, power relations, and decision-making within the community—complex issues which are left unaddressed in both the 2003 UNESCO ICH Convention and the 2012 Operational Directives.