City Poems Video Poetry Contest! "Like" for the Audience Award!
In Spring 2023, Kate Hennessy and Teaching Assistant Julian Iliev mentored students in Moving Images (IAT 344) in the production of 11 video poems that brought new meaning and creative approaches to representing the award winning poems about Vancouver that were selected as a part of Vancouver Poet Laureate Fiona Tinwei Lam's City Poems Contest. Our sincere thanks to Fiona Lam and videopoetry pioneer Tom Konyves for all their care and support in the development of these projects and for this amazing opportunity to learn about videopoetry!
These videos are now on the
Vancouver Public Library's YouTube Channel,
where the most "liked" video will be awarded  a special Audience Choice Award. Three winners will be selected by judge Heather Haley, and awarded in a ceremony at the Museum of Vancouver on Sunday June 11th.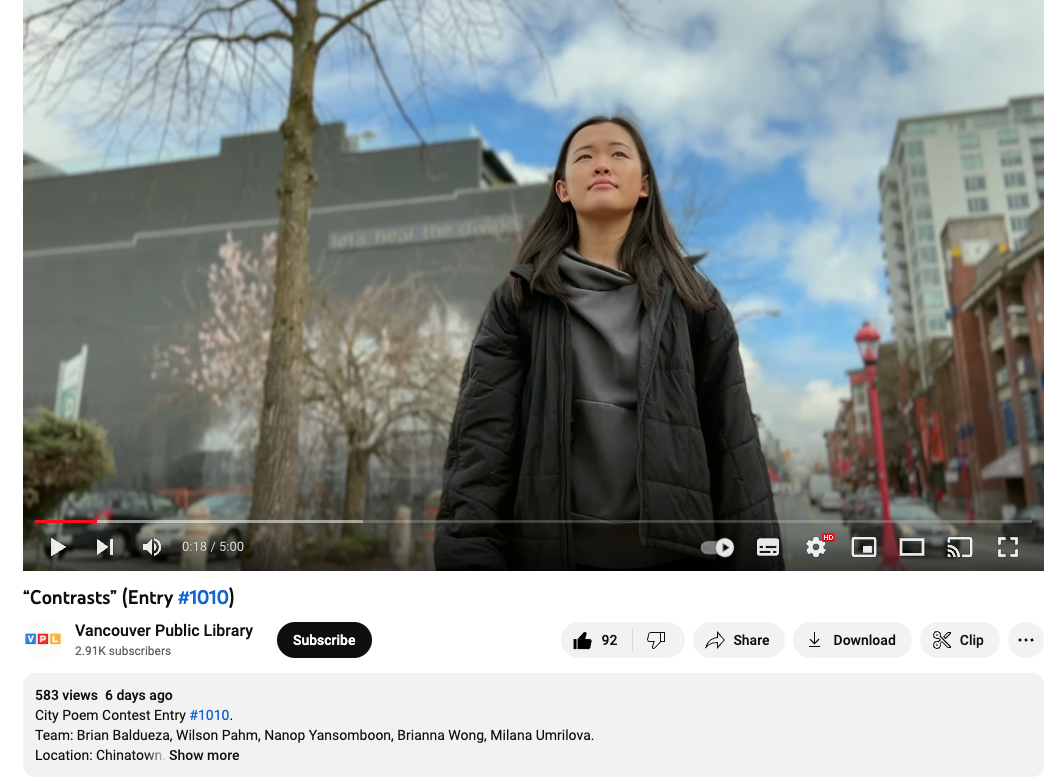 SFU SIAT students also created video poems in Fall 2022. All SFU video poems are indicated with a red title card. There are also amazing contributions from Emily Carr University and UBC.
Please watch, enjoy and "like" to support theses students' amazing work!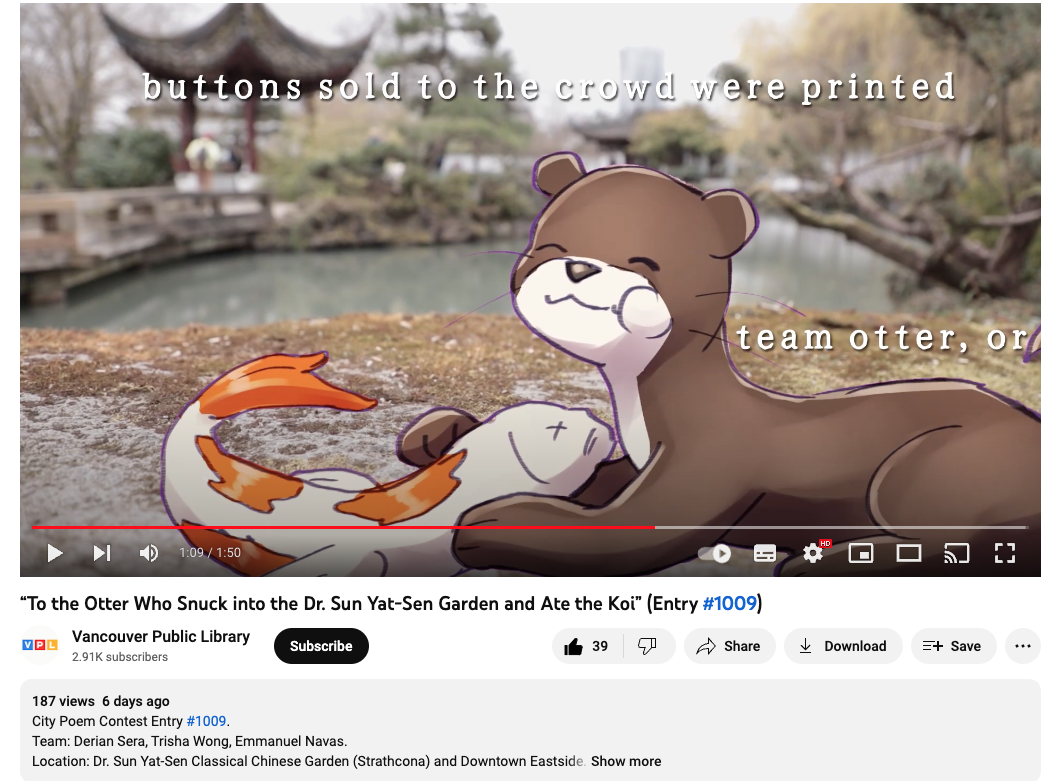 From the Vancouver Public Library:
Starting midnight April 26, Vancouver Poet Laureate Fiona Tinwei Lam introduces the City Poems Contest Stage Two. These poetry videos made by post-secondary students are based on poems about cultural, historical or ecological sites within Vancouver and are available on Vancouver Public Library's YouTube account for public viewing and voting. Link to playlist with all entries:
 • Poet Laureate's C…   Poet and former curator of Vancouver's Visible Verse Festival, Heather Haley will be judging the top 3 poetry videos that will be announced and screened at a ceremony on June 11 at the Museum of Vancouver. In the meantime, anyone can participate in the online voting by "liking" the video, and you can vote for as many poetry videos as you wish! Students enrolled in pre-selected local public post-secondary film/digital arts/media/animation or related courses (SFU IAT 344 (Moving Images), UBC FNIS 454 (Indigenous New Media), ECUAD 2DN 211 (2D Animation) and ECUAD Foundation 160 (Core Media Studio)) selected poems from a curated list of eligible poems. This list consisted of several of the adult finalists' poems from Stage One, supplemented by a few site-based poems to ensure representation. Poets whose poems were shortlisted in Stage One could also participate in the contest by collaborating with local public post-secondary students of their choice.