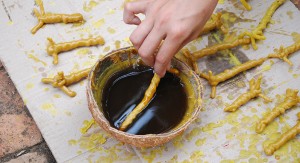 INTANGIBLE CULTURAL HERITAGE AND MUSEUMS FIELD SCHOOL
Between 2009 and 2011, Kate Hennessy was a lecturer and co-organizer of the Intangible Cultural Heritage and Museums Field School in Lamphun, northern Thailand. The field school was organized by the Sirindhorn Anthropology Centre in Bangkok, and UNESCO Bangkok. We hope that there will be more offerings of the field school in the near future. From the 2011 Field School website:
The Intangible Cultural Heritage and Museums Field School focuses on the role of the museum in safeguarding, documenting and revitalizing intangible cultural heritage in the ASEAN region. Led by experts in the fields of museology and anthropology, this course offers museum and heritage professionals the conceptual and practical tools for engaging with local communities to safeguard their intangible cultural heritage, such as oral history and narratives, craftsmanship, festivals, ritual, performance and other forms of traditional knowledge.  The course combines frameworks from "new museology" and ecomuseums with  anthropological approaches for understanding and working with source communities. The Field School combines theory and practice with a focus on: The 2003 Convention for the Safeguarding of Intangible Cultural Heritage; Anthropological approaches and tools for researching, documenting and safeguarding intangible cultural heritage; Linking the safeguarding of intangible cultural heritage to core museum activities; New museology, community-based museums and participatory heritage management; Documentation of intangible heritage using digital technology (photography and video) and IP and cultural rights issues
Program Structure
The Field School is an intensive, 2-week course offering a combination of lectures and a hands-on field practicum. Under the guidance of leading experts, participants will work in cross-cultural, interdisciplinary teams to apply their newly gained concepts and approaches to safeguarding intangible heritage via the museum. This year's field practicum will focus on the documentation of intangible heritage using digital technologies (documentary photography, sound and video recording). Participants will be expected to work in close collaboration with four participating communities in Lamphun Province to produce a short film featuring one element of intangible cultural heritage as part of their practicum.
Related Publications:
2013 Alexandra Denes, Paritta Chalermpow Koanantakool, Peter Davis, Christina Kreps, Kate Hennessy, Marilena Alizivatou, Michelle L. Stefano. Critical Reflections on Safeguarding Culture: The Intangible Cultural Heritage and Museums Field School in Lamphun, Thailand. Heritage & Society 6(1):4-23.
2013 Kate Hennessy. Digital Heritage and Local Cultural Property Rights Discourse. UNESCO Conference Proceedings, Memory of the World in the Digital Age: Digitization and Preservation. Sept. 26-28, 2012, Vancouver B.C.
2012 Kate Hennessy. Cultural Heritage on the Web: Applied Digital Visual Anthropology and Local Cultural Property Rights Discourse. International Journal of Cultural Property (19, Special Issue: Intangible Property at the Periphery: Expanding Enclosure in the 21st Century):345-369. [PDF: Hennessy2012_IJCP]