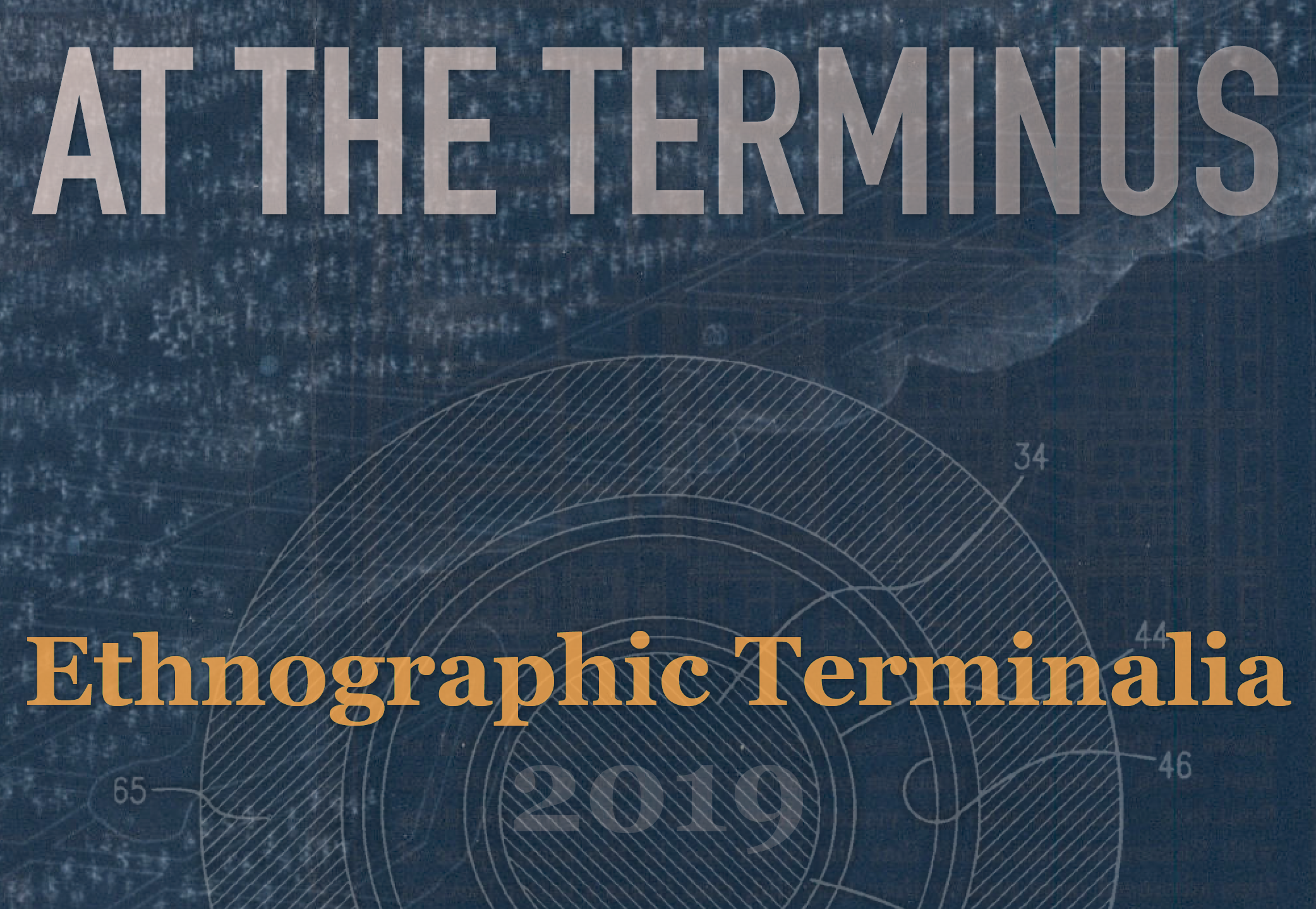 At the Terminus: Ethnographic Terminalia 2019
Vancouver, B.C. is known as Terminal City, the end of the railways and pipelines where land meets the Pacific Ocean. It is the terminus, the boundary, the border. It is a city on unceded xʷməθkwəy̓əm (Musqueam), Skwxwú7mesh (Squamish), and Səl̓ílwətaɬ (Tsleil-Waututh) Territory, a place grappling with colonial ruptures, cultural continuities, and new beginnings.
In 2009, the Ethnographic Terminalia Collective presented its first exhibition in the IceBox Gallery at Crane Arts, Philadelphia, alongside the annual meeting of the American Anthropological Association. Since then, the collective has curated and exhibited the work of over 150 artists and anthropologists in a range of projects, from group exhibitions, to site specific collaborations, workshops, and alternative modes of publishing. On the 10th anniversary of Ethnographic Terminalia, the Vancouver gathering marks their final official event as a collective.
This year's constellation of events takes place from November 19-24, 2019 in The Hangar at the Centre for Digital Media, at the heart of East Vancouver's growing arts district. This exhibition is a presentation of works and events that wrestle with entangled pasts, presents, and futures, the personal and the institutional, the relational, and the networked.
The events include:
A special presentation of sq̓əq̓ip – gathered together  [4-channel audio installation, 25 mins] featuring the voices of Howard E. Grant, Howard J. Grant, Larry Grant, Wendy Grant-John, Johnny Louis, and Mary Roberts.
sq̓əq̓ip – gathered together was created by the Museum of Anthropology at the University of British Columbia with the Musqueam Indian Band for the exhibition c̓əsnaʔəm: the city before the city (2015-2016). It was co-curated by Jordan Wilson and Susan Rowley

in collaboration with the curatorial team of c̓əsnaʔəm, the city before the city, an historic partnership of three Vancouver institutions: the Musqueam Indian Band, the Museum of Vancouver, and the Museum of Anthropology at the University of British Columbia.

Wakanda University and the Cyborg Sandbox, presented by Elizabeth Chin and Danya Glabau
Bee Roll, a media installation co-presented by the Ethnographic Terminalia Collective and the Centre for Digital Media
Roundtable Discussion: Sensing Cultures and Environments – with presenters Jennifer Biddle, David Howes, Chris Salter, David Garneau, Jennifer Deger, Deborah Matzner, Jordan Wilson, and discussants from the Ethnographic Terminalia Collective.
Ethnographic Fringe Salon, presented by Misha Cahnmann-Taylor
TERMINUS: Ethnographic Terminalia Closing Party to thank the community, AAA, and our collaborators for 10 years of support and engagement.
This project is open to the public and is generously supported by the AAA, the University of British Columbia, the Centre for Digital Media, Simon Fraser University, University of Texas, Austin, Chapman University, and the Social Sciences and Humanities Research Council of Canada (SSHRC).
Location: The Hangar at the Center for Digital Media
Address: 577 Great Northern Way, Vancouver, V5T 1E1
Exhibition Times:
Tuesday, November 19, 2019, 12:00pm-6:00pm
Wednesday-Saturday, November 20-23, 2019 9:00am-6:00pm
Sunday, November 24, 2019, 9:00am-12:00pm