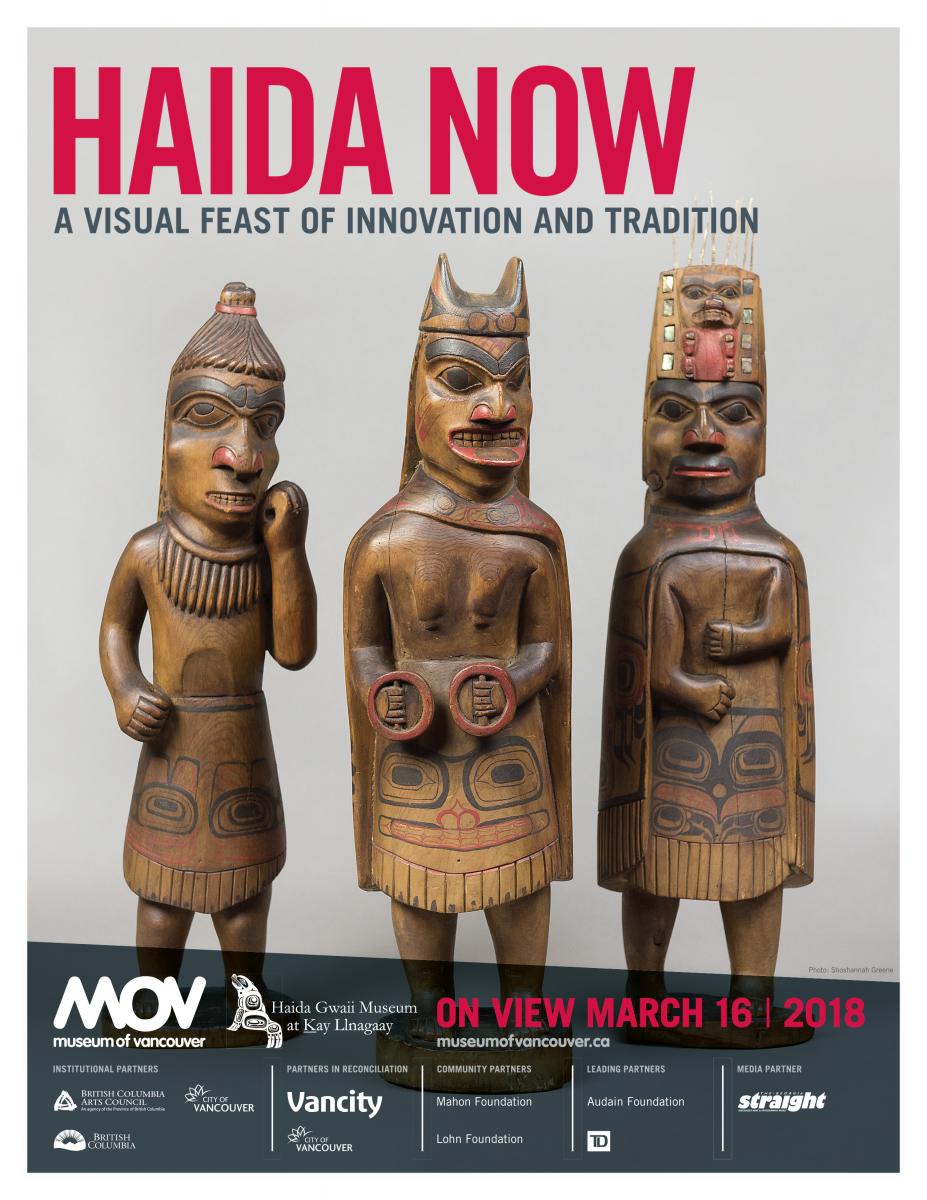 The Making Culture Lab and students of Moving Images (IAT344) were honoured to collaborate with Kwiaahwah Jones and Viviane Gosselin on the production of seven short documentaries for inclusion in the ground breaking exhibition Haida Now: A Visual Feast of Innovation and Tradition, opening March 16th 2018 at the Museum of Vancouver.
"Documenting Haida Now @ MOV"
Acutely aware of the role public institutions have played in upholding colonial power and of colonialism's devastating impact on First Nations, the Museum of Vancouver, alongside other museums across the country, is invested in repairing and renewing relationships with First Nations. This means revisiting how we collect, let go, interpret and display collections of Indigenous belongings. It means treasuring relationships with individuals and communities over objects.
A collaboration with the School of Interactive Arts + Technology (SIAT) at Simon Fraser University helped the museum document the building of new relationships between members of the Haida community and MOV. Students produced a series of short documentaries for inclusion in the exhibition. They largely feature visits by Haida artists, performers and scholars at the museum where they met the curatorial team and reconnected with the collection of Haida works. A few other interviews speak to the long-lasting relationship between the Haida, the local host nations and the city.
–Viviane Gosselin, Director of Collections and Exhibition at MOV

____________________________________________________________________
The Museum of Vancouver (MOV), in partnership with Haida Gwaii Museum, presents a visual feast of innovation and tradition with new exhibition, Haida Now, on display from March 16, 2018 to June 15, 2019. Guest curated by Haida CuratorKwiaahwah Jones in collaboration with Viviane Gosselin, Co-curator and Director of Collections & Exhibitions at MOV, this exhibition features an unparalleled collection of Haida art boasting more than 450 works created as early as 1890.
Local Haida Artists will share their insights and knowledge about the art pieces, providing visitors with the opportunity to experience a powerful way to engage with the worldview and sensibility of the Haida people while gaining greater appreciation for the role museums can play in the reconciliation movement.
___________________________________________________________________________
Films made at the School of Interactive Arts and Technology are:

Kwiaahwah Jones, Paola Merkins, and Fiona Hernandez (2017) 4'49
Made by:
Amiko Tong
Claire Li
Ian Liu
Mentored by: Kate Hennessy & Aynur Kadir, with Kwiaahwah Jones and Viviane Gosselin

Woven Beauty: Isabel Rorick and Merle Williams (2017) 4'10"
Made By:
Sumeet Kaur Anand
Joyce Caroline Aquino
Minsi Chen
Mentored by: Kate Hennessy & Aynur Kadir with Kwiaahwah Jones and Viviane Gosselin

Rise of the Guardians: Miles Richardson (2017) 4'01"
Made By:
Jin Du
Dawn Li
Salathiel Wells
Quinn MacDonald
Mentored by: Kate Hennessy & Aynur Kadir with Kwiaahwah Jones and Viviane Gosselin

The Lattimer Legacy (2017) 4'55"
Made By:
Alex Fung
Eric Cheng
Gordon Huang
Mentored by: Kate Hennessy & Aynur Kadir with Kwiaahwah Jones and Viviane Gosselin

Our Past Builds Our Future: Latash-Maurice Nahanee & Bill Angelbeck (2017) 3'58"
Made By:
David Yeung
Ricky Chen
Snow Liu
Wendy Parng
Mentored by: Kate Hennessy & Aynur Kadir with Kwiaahwah Jones and Viviane Gosselin

Corey Bulpitt (2017) 7'01"
Made By:
Yu-Chieh Tseng
Brandon Matthew Hoare
Bohan Li
Mengran Song
Mentored by: Kate Hennessy & Aynur Kadir with Kwiaahwah Jones and Viviane Gosselin

Evelyn Vanderhoop & Jim Hart (2018) 13'28"
Made By:
Aynur Kadir
Reese Muntean
Jay Tseng
Brandon Hoare
Mike Hofer
Mentored by: Kate Hennessy & Aynur Kadir with Kwiaahwah Jones and Viviane Gosselin