Image credit: From Wrapped in the Cloud, Meghann O'Brien, 2018. Produced in collaboration with Conrad Sly, Hannah Turner, Reese Muntean,  Jaimie Issac, and Kate Hennessy.
Wrapped in the Cloud | A collaboration with Meghann O'Brien

"Wrapped in the Cloud © by Jaad Kuujus (Meghann O'Brien) produced in collaboration with Conrad Sly, Hannah Turner, Reese Muntean, and Kate Hennessy, is an otherworldly video that reveals the layers that connect community and ancestral knowledge, representing the often inexpressible depths of love and culture. Wrapped in the Cloud is a digital representation of a weaving called Sky Blanket by Jaad Kuujus (Meghann O'Brien), that reveals what our eyes cannot see when looking at the weaving. We are let into a sacred realm that shows us how every ancestor holds space in the constellations created through the process of weaving threads together. The warp and weft change the structure of the threads, making them stronger once woven together. Through collaboration with other artists, and community, Wrapped in the Cloud is stronger for the shared knowledge, care, and presence of each person and spirit that has had impact on the making of the weaving and the video. It all comes together through Jaad Kuujus (Meghann O'Brien) who brings this work into existence."  – Nasrin Himada and Jennifer Smith, Curators, Sovereign Intimacies, Plug In Institute of Contemporary Art, Winnipeg (Sept. 2020).
See Full Exhibition Essay here.
---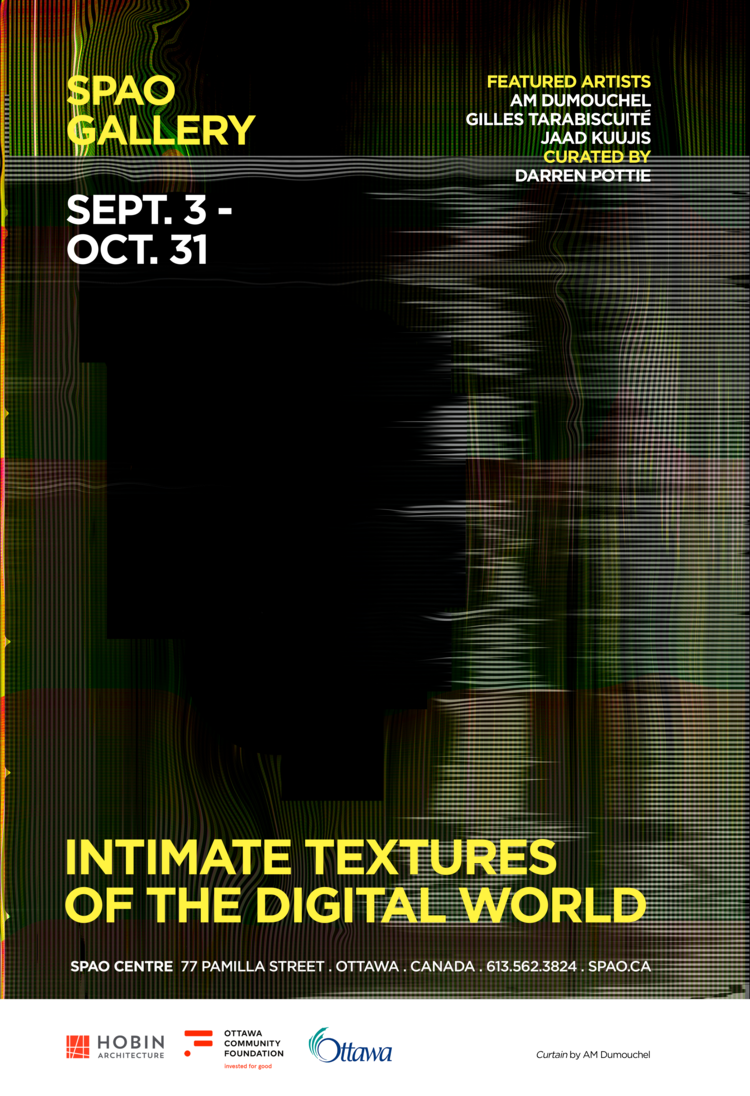 Current exhibition:
The SPAO Centre Gallery proudly presents
Intimate Textures of the Digital World
featuring the photo-based work of
AM Dumouchel
Gilles Tarabiscuité
Jaad Kuujus (Meghann O'Brien)
The artists in the exhibition negotiate between digital and physical spaces, continually asking viewers to orient themselves between physicality and abstraction. The artworks capture a tactile and sensory subject matter, despite the mediation of the lens in two-dimensions. Viewers are encouraged to explore intimate conversations of metamorphosis, belonging, and manual labour while also discovering their place between reality and virtuality.
Intimate Textures of the Digital World asks the viewer to envelop themselves in virtual possibilities, and consider our intertwined daily experiences.
Exhibition Runs September 3 – October 31, 2021
Gallery Hours: Wednesday – Sunday, 12pm – 5pm
---
Kate Hennessy, Hannah Turner, Reese Muntean, and digital artist Conrad Sly are thrilled to be collaborating with curator Jaimie Issac and artist and weaver Meghann O'Brien to create a media installation titled Wrapped in the Cloud representing her woven work Sky Blanket.
Sky Blanket  was selected by Winnipeg Art Gallery curator Jaimie Isaac for the exhibition Boarder X. However, while this exhibition has traveled from the MacKenzie Art Gallery, to the Winnipeg Art Gallery, to the Art Gallery of Alberta, the Rooms in St. Johns, and the Nanaimo Art Gallery (2020), the original Sky Blanket was returned to Meghann's home community in September 2018 for use in ceremony.We used photogrammetry and digital modeling to produce an animation representing Sky Blanket that takes the place of the original blanket in the exhibition. Wrapped in the Cloud has been curated for inclusion in other exhibitions, including Sovereign Intimacies at the Plug In ICA (2020); and A Thread That Never Breaks (at AbTec Island, Second Life, Indigenous Fashion Week Toronto) (2021).
Watch this conversation hosted by the Nanaimo Art Gallery between Meghann O'Brien and Jaimie Isaac, in which they discuss Wrapped in the Cloud.
Jaimie Isaac and Meghann O'Brien Boarder X Conversation from Nanaimo Art Gallery on Vimeo.
Please see our most recent article  Wrapped in the Cloud: A Conversation with Meghann O'Brien and Conrad Sly in the 50th Anniversary Issue of BC Studies.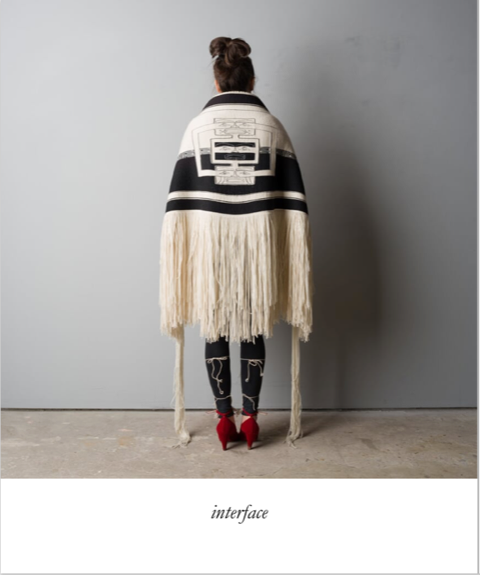 Please see Meghann O'Brien's catalogue "Interface: The Woven Art of Meghann O'Brien" published by the Bill Reid Gallery of Northwest Coast Art. It includes an essay by Kate Hennessy and Hannah Turner titled 'Wrapped in the Cloud: Working Together at the Interface".
About Meghann O'Brien (website)
Meghann O'Brien is a Northwest Coast weaver working in the traditions of  basketry, Yeil Koowu (Raven's Tail) and Naaxiin (Chilkat) textiles. She is descended from the Kwakwaka'wakw village of Weḵa'yi T'sakwa'lutan (Cape Mudge),  the village of Kiusta, Haida Gwaii, and Dublin, Ireland. Her name in the Kwakwala language is Kwaxhi'laga-"Smoke Coming Out of the Top of the Big House, Welcoming People to Feast and Potlatch". In the Haida language she carries the name of her maternal great grandmother Ruby Simeon: Jaad Kuujus-"Deer Woman". Meghann has apprenticed under master weavers and traditional teachers Kerri Dick, Sherri Dick, and William White. Her artistic process is one of devotion to the highest expression of the art form, preferring to allow the weaving to find it's own place in the world once completed. Her work is distributed between public and private galleries, museums, collectors, family, chiefs, dancers, and ceremonial people. She travels globally to lecture and demonstrate.
Our gratitude to: The Centre for Digital Media, Jaimie Issac, Richard Smith, Reese Muntean, Aynur Kadir, Beth Carter, John Reichert, the MacKenzie Art Gallery, the Winnipeg Art Gallery (and more to be added to this list!).