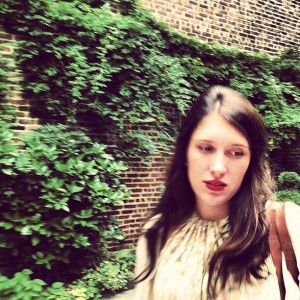 I am a PhD student in the Making Culture Lab in the School of Interactive Arts + Technology. My research interests include visual anthropology, sensory filmmaking, community media, intangible cultural heritage, virtual museums and experimental/digital/interactive ethnography. My doctoral project is a web-based interactive documentary about the evolution and permutations of traditional Appalachian culture (especially in relation to contemporary 'punk' lifestyles).
My background spans a diverse range of disciplines and mediums: anthropology, filmmaking, archaeology, visual art (painting, ceramics, glass and photography) and science. I completed my Master's degree in Social Anthropology from The London School of Economics in 2010. The following year, I completed a degree in Visual Anthropology at the Australian National University as a Rotary Ambassadorial Scholar. For dissertation research, my fieldwork sites included a Mapuche community in Patagonia (Chile) and an Aboriginal community in remote Arnhem Land, Australia.
Following graduate school, I worked in professional documentary production (SeeThink Films) and served as the Pre-Screening Coordinator for the Margaret Mead Film Festival in New York City. In 2013, I spent a summer as a Visiting Researcher at the Smithsonian Institute (Washington D.C.) as a continuation of my research in the Anthropology Department at the American Museum of Natural History (AMNH). Over the past year, I worked in remote Appalachian regions as an archaeologist and the director of a documentary short, entitled "Appalachian Punks: A Resurgence of Tradition." Akin to my doctoral project, this film explores the renegotiation of traditional mountain music from a young, contemporary 'punk' aesthetic.