Bruce Clarke's chapter on communication chapter reminded me of one of my favourite 99% invisible episodes: The Mojave Phonebooth. An isolated phone booth grows out to be an international sensation.
Godfrey ("Doc") Daniels read about this booth in a brief letter to a zine editor, which contained its phone number (760-733-9969) and little else. He didn't know where it was. He didn't know if it actually existed. So he called it. No one answered, but he was undeterred. He continued to call and recruited his friends to do the same. The mystery became his obsession, and he started dialing the number several times a day, everyday. Then, after about a month of dialing, he got a break in the case: a busy signal. Frantic, Doc dialed back until he got the open line again, and this time, someone picked up: a cinder miner who had no phone of her own. They chatted for a while, mostly small-talk, and in his excitement, Doc forgot to ask where the phone booth was.
The persistence of Godfrey Daniels is fascinating. Why keep calling? Why this crave for communication? But he was not the only one. The phone booth became a legend, and people traveled from all over the world to call and receive calls of people from… well, all over the world (this was in 1997, when the internet was still relatively new).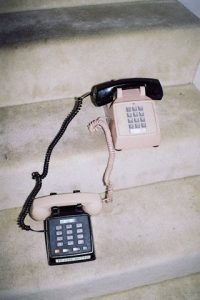 Fast forward to today. The rise of IoT, we will have more and more things in our homes that will communicate more with each other, than with us. What would Godfrey Daniels do about that?