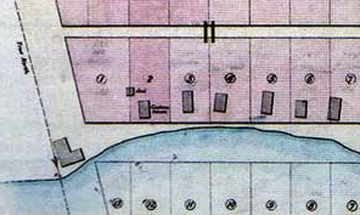 Cartographic Exploits: Making Territory in the Contemporary City ("A Symposium Exploring the Spatial Poetics of Vancouver") will take place on January 28th and 29th as a part of the PuSH International Festival for the Performing Arts. It will be held in the Warehouse at the Great Northern Way Campus / Center for Digital Media. On Saturday morning, Jan 29th, I will be speaking on a panel/moderated conversation with Martin Kinch [Pod Plays/ New World Theatre, Vancouver] and Volker Gerling [Portraits in Motion/ Daumenkinographie, Berlin], moderated by Kelty Miyoshi McKinnon [Phillips Faarvag Smallenberg, Vancouver]. See the details here, and all the amazing performances and events in this year's PuSH Festival!
From the website PuSH Festival Website:
A SYMPOSIUM EXPLORING THE SPATIAL POETICS OF VANCOUVER

" …mapping has emerged in the information age as a means to make the complex
accessible, the hidden visible, the unmappable mappable. As we struggle to steer
thorough the torrent of data unleashed by the Internet, and to situate ourselves in a world in which commerce and community have been redefined in terms of networks, mapping has become a way to make sense of things…" – Janet Abrams and Peter Hall
The city has come of age in this spatial construct. Terminal City—the colonial outpost of Vancouver—celebrates its quasquicentennial in 2011. One hundred and twenty–five years into the project, recent art, architecture and performance works have begun to critically position themselves and respond to the spatial condition of the city. For Vancouver, this period of introspection has coincided with a cultural shift in contemporary mapping practices, a shift that reflects a fundamental change in how we think about and represent our relationship to the spaces we inhabit. Changes in the global, economic, environmental and digital worlds have created the platform, and the necessity, for interdisciplinary strategies to understand these new spatial references.
Cartographic Exploits: Marking Territory in the Contemporary City brings together an interdisciplinary group of cartographers, architects, designers, writers and artists—the symposium will discuss the significance of this current trend and explore how these practices are shaping our own understanding of the city and making new interpretations possible.
Keynote speaker Nato Thompson is Chief Curator at Creative Time, New York's premiere public art organization. Since coming to Creative Time in 2007, he has organized large scale social based projects including Democracy in America: The National Campaign, Paul Chan's Waiting for Godot in New Orleans, Jeremy Deller's It is What it Is: Conversations about Iraq (a project in collaboration with the New Museum), and most recently the Creative Time Summit. Previous to Creative Time, he served as curator at MASS MoCA. His writings appear in numerous magazines on the subject of art and activism, and his book Seeing Power: Socially Engaged Art in the Age of Cultural Production is due out by Melville House Publishing in January 2012.
……………………..
FRIDAY JANUARY 28, 2011
05.30 – 06.00    Registration
06.05 – 06.15    Welcome : Annabel Vaughan | UBC SaLa
06.15 – 07.00    Keynote Lecture : Nato Thompson | CREATIVE TIME NYC
07.00 – 08.00    Opening Reception

SATURDAY JANUARY 29, 2011
09.30 – 10.00    Registration
10.00 – 11.00    Artist Talk : Martin Chaput + Martial Chazallon | PROJET IN SITU  [FRANCE] 11.30 – 01.00    Moderator : Kelty Miyoshi McKinnon | PHILLIPS FAAREVAG SMALLENBERG [VANCOUVER] 1]    Martin Kinch [Pod Plays] | NEW WORLD THEATRE [VANCOUVER] 2]    Volker Gerling [Portraits in Motion] | DAUMENKINOGRAPHIE [BERLIN] 3]    Kate Hennessy | SFU – SCHOOL OF INTERACTIVE ARTS AND TECHNOLOGY [VANCOUVER]
1.00 – 2.00         LUNCH
02.00 – 03.00     Artist Talk : Marco Casamonti + Andrea Destro + UBC students | ARCHEA [ITALY/BEIJING] 03.30 – 05.00    Moderator : Erick Villagomez | RE:PLACE MAGAZINE [VANCOUVER] 1]    Marco Casamonti | ARCHEA [ITALY/BEIJING] 2]    Peter Reder [City of Dreams] | PETER REDER CO. [LONDON] 05.15 – 05.30    Closing Remarks : UBC Student | UBC SaLa
05.30 – 08.00    Closing Reception | UBC SaLa