Ethnographic Terminalia Presents: 'Seeing Anthropology' at the American Museum of Natural History
Ethnographic Terminalia is pleased to announce that a *new* iteration of our project will be taking place October 18th-20th, 2013 in New York City at the American Museum of Natural History as part of the Margaret Mead Festival.
Ethnographic Terminalia Presents
"Seeing Ethnography" with Zoe Bray
To spark new conversations at this year's Mead Film Festival as part of their distinct Mead Dialogues program, University of Nevada-Reno anthropologist and artist Zoe Bray will conduct a focused visual ethnography by putting herself, her model, and her visual research methods on display. For her performance in the Grand Gallery of the American Museum of Natural History she will paint a portrait with a New York-based anthropologist as a live model. Stop by to watch Dr. Bray at work, discover her visual research methods, and consider the various ways that ethnography is practiced.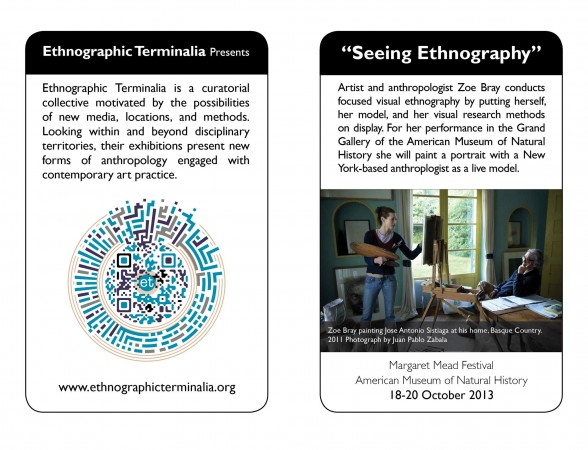 http://www.amnh.org/explore/margaret-mead-film-festival/mead-dialogues/seeing-ethnography-with-zoe-bray
http://ethnographicterminalia.org/