The Aalto Vase, also known as the Savoy Vase, is a piece of glassware created by Alvar Aalto and his wife Aino that has become an internationally known iconic piece of Finnish design. It became known as the Savoy Vase because it was one of a range of custom furnishings and fixtures created by Alvar and Aino Aalto for the luxury Savoy restaurant in Helsinki that opened in 1937.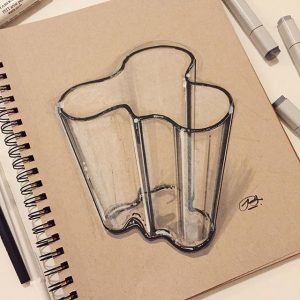 The reason why I want to present this artistic product is that itself is a media that broadcast its background culture and manufacturing process all over the world through a long period of time till now. "Savoy" bottle is the symbolic image of Finland, if you put a "Savoy" bottle on the table, indicating that you not only like the design, and like the Finnish design, like Aalto design. Few people use it do not know who designed the bottle. Indeed, a bottle designed a national symbol, a symbol of the nation.
Another important reason is that "Savoy" bottle represents the national culture of Finland. Also, it represents the culture of global. Such as what Ludwig Mies van der Rohe said before "less is more"- referring to his later efforts to reduce and distal buildings and their components into simple forms in which art and technics – geometry and matter – were integrated in a more persuasive tectonic expression than Behrens, his former master, had ever achieved. As a result, "Savoy" bottle is a simplest bottle but it always the most complicated bottle.
This is the manufacturing process of this bottle
You can see an old and classic edition at British museum:
http://www.britishmuseum.org/research/collection_online/collection_object_details.aspx?objectId=84196&partId=1&people=85133&peoA=85133-2-37&page=2